Sorry I've been away from you all over the weekend, but Tiffany and the baby came up and we've been settling in and finalizing some wedding plans for Nichole and Branden.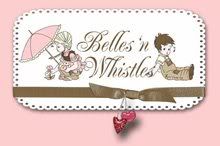 I just had to remind you about the new line of stamps,
Belles N' Whistles
, illustrated by the ever so talented Elisabeth Bell for Summer as a division of
Roses on Paper
. Oh, get ready for cuteness all over the place because these promise to be well, absolutely magical!
But I promise to be back later in the day with a card from The Greeting Farm that I picked up at Roses on Paper. You know how I love these little cuties! Hope everyone had a great weekend.